4 Most Remarkable Shortcomings of Apple Watch Series 4 (e.g., why I returned it)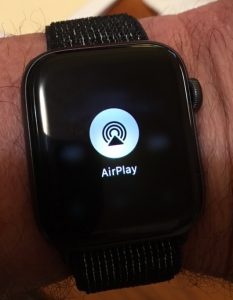 That's a lie. It's NOT an AirPlay source: See https://support.apple.com/en-us/HT208728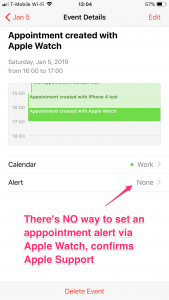 Ooops. Even on version 5 of Watch OS, Apple forgot to 'mirror' your iPhone's default alert setting to your Watch, or provide any other way to add an alert to an appointment.
For someone who uses Macs and iPads and iPhones, there's a lot to like about the Series 4 Apple Watch (GPS + Cellular, watch OS 5.1.2).
But I returned mine to the Apple Store after only 3 days because:
The Deal Killer: Cannot create appointments with "alerts" - if you use the Watch to create a Calendar appointment, there is no way for the Watch to add an alert, such as an alert 30 minutes beforehand. So your appointments created with a Watch behave differently than the ones you created with your iPhone. (If you create an appointment via an iPhone, or an iPad, or a Mac you can set a default alert, but not with the Watch.) This was confirmed today by Apple Support who escalated the issue to engineering.
Calendar displays only current month. Of the many bone-headed things Apple has done in the post-Jobs era, a Calendar app that will not display months other than the current month deserves special mention. If you display the month-at-a-glance calendar, and turn the scroll knob, or swipe, the Watch displays... the same (current) month.
No 5 GHz Wifi support  - had to dumb-down my home wifi network to 2.4GHz for the Watch to connect correctly to the iPhone, even though it said it was connected it wasn't connected to the iPhone via Wifi. Apple documentation is silent about the need to dumb-down your Wifi to 2.4GHz... One symptom is ridiculously slow music syncing when adding playlists to your watch if your iPhone connected via 5GHz and your watch connects via 2.4GHz... but the iPhone offers NO way to "see" what Wifi speed your iPhone is connected, so good luck debugging this.
No Airplay support - despite offering an "Airplay" option right on the Control Center when selecting audio output, the Watch is NOT on Apple's list of Airplay audio sources. Confirmed with Apple Support on lengthy call: if you have a nice stereo connected to an Apple TV, no, you cannot stream audio to the Apple TV's sound system. So the "Airplay" option on the Watch is a lie... iPhone and iPad and Mac Airplay options DO connect to my Apple TV (audio and/or video) the Apple Watch will not show an AppleTV among the audio destination options. (I thought perhaps it was because mine was a 3rd Gen AppleTV but Apple Support said no version of AppleTV can play music from a Watch.)
BONUS Shortcoming: No Phone or Messages quick-launch option for the new Infographic faces. Oddly, the fancy new faces do not support the two most important options (which they call complications)... no phone and no messages.